Presenting the most coveted Gold & Diamond Jewellery styles, eyed by every instagram influencer and taking over the social media town.
Instagram has replaced window shopping in the most elaborate way. You can find accessory trends, any fashion alerts and of course anything on Instagram.
While Instagram is helpful to find these trends, it is often hard to go through the massive clutter online. This is why we have put together the top 10 Instagram trends in the gold and diamond jewellery space. Read on to find out –

Rose Gold Cocktail Rings
Why do women love rose gold? It comes closest to 'pink gold'. Cocktail rings are statement pieces, but when crafted in rose gold, they become more versatile to wear. The soft blush of the rose gold adds subtlety to the bold rings, making them a blind-eye pick for a day-time occasion or an evening traditional event.
Diamond & Emerald Stone Weaving
Imagine wearing a necklace woven with diamonds and emerald stones to adorn your neck at a formal evening occasion. This perfect Diamond-Emerald pattern knit together in a symmetrical design as if to resemble a blanket of stars.
Mother of Pearl Designs
This trend has picked up during the spring season that was all about pastels and floral designs. But we think this is a classic evergreen trend, a design piece that rarely goes out of style. The green effect blossoms in the mother of pearl designer ring will definitely earn a lot of compliments for you.
Meenakari Work
Meenakari has been an art that comes with a legacy, carried forward through the ages. The handwork is truly beautiful in every design, however this year we have seen something new with this art. This contemporary piece named 'Neelkamal' from our Mighty Variety Festive Necklace Collection exhibits the most perfect blend of the night into jewellery, making it a trend to follow.

Convertible Jewellery
A delightful conversation between the wearer and her heritage – discovering gold and diamond opulence that transcends time. A 2 in 1 convertible hand accessory piece – that turns a bracelet turning into earrings involving incredible craftsmanship work.
Stacking and Layering
In today's day and age – the concept of less is more lies redundant on Instagram. More is always more. More is always going to catch the eye. So go for more – Wear a 3 layered necklace and stack up! Tip – You can do this for bracelets or rings also.
Fusion – Jadau X Diamond Designing
Fusion is always tricky, but when done right it is a masterpiece! Just like that the trend of fusion jewellery has been extended to jadau as well. Revamp your look with this style and get on that bandwagon.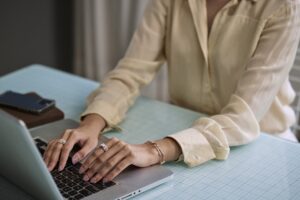 Wear it to work!
We see so many bloggers/celebrities wearing bling to work. Subtlety infused with design is your mantra to being fashionable at work. Pick these trendy yet classic designs to wear to work and wake up every Monday morning to some bling!
Mix and Match
Mixing and matching contrasting designs that create a unique look is what the trendsetters are sporting on the internet. The simplest way to do this is to pick bold necklaces with earrings – this adds some edge to the classic look but also embraces elegance at the same time.
Intricate Filigree work
Finally, the last but definitely not the least – Filigree work. Filigree work is a delicate design made out of gold that makes it look like a meshed or woven pattern. This work is truly a craft that can be mastered by only some – that's why it is an eye catcher on the internet.
Conclusion
Instagram has become a global source of inspiration for jewellery enthusiasts. From rose-gold rings to emerald necklaces and pearl adornments, the top 10 trends on this platform offer something for all tastes.
The ever-evolving jewellery world continues to captivate with its creativity and craftsmanship. So, embrace your unique style, experiment with the trends that resonate with you, and shine with the beauty of these Best Gold and Diamond Jewellery in Mumbai. Join us on this dazzling journey through the top 10 jewellery trends on Instagram at www.antarajewellery.com